BlueScope Steel and Caroline Pidcock win Insurance Council of Australia Resilience Award for resilient housing design
On May 5 2011 Bluescope Steel won the Insurance Council of Australia Resilience Award Competition with an innovative home design, by Caroline Pidcock of Pidcock Architects, aimed at preparing Australian communities for extreme weather conditions and assist disaster affected families to remain in their own homes post-disaster.
We met with Robert Scott (Building Applications and Product Durability Manager) and Hayley Jarick (Sustainability Analyst) from BlueScope Steel to find out a bit more about this project...
1. Robert, what is this all about? What inspired you to enter this competition?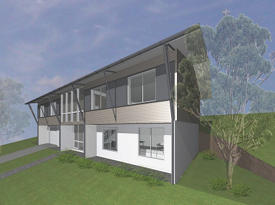 The floods in Queensland, which affected many of our clients and staff, inspired us. We then wanted to design a home that would have broad community appeal so, in working with PIDCOCK Architecture and Sustainability, we chose design elements and materials that we knew the market accepted. Since we had Queensland on our minds, we chose a modern take on the Queenslander architecture.
BlueScope Steel has a range of products and innovations that perform well in extreme condition, which was well suited to this competition. This competition provided a great opportunity to raise the awareness of the benefits of our products applied as part of good building design.
2. Hayley, being the sustainability analyst for BlueScope Steel, what can you tell me about sustainability concerns about using building materials with a high environmental impact versus building a disaster-prone house?
When designing sustainable buildings it is always important to balance environmental, economical and social needs. When evaluating the environmental benefits of designs and materials it is critical to include burdens and benefits over their full life cycle. This award recognises the benefits of good design and appropriate materials during the occupancy phase of a building as it is required to respond to specific predicted climatic conditions. Focusing on the embodied energy of materials ignores flow on effects during occupancy and end of life; incorporating resilience into decision making does not 'trade off' sustainability concerns, it completes them.
3. Robert, I noticed you chose to use elements of your existing product range, have these materials been tested in extreme weather circumstances?
Testing has been performed in BlueScope Steel laboratories, those of independent assessment organisations, and in the field for a range of natural events. For example, the winning design incorporated learnings from work performed by the National Association of Steel-Framed Housing (NASH) and the CSIRO around housing in simulated bushfire conditions.
We've been testing, developing and manufacturing COLORBOND® steel for over 40 years. Every day, we're testing over 20,000 COLORBOND® steel panels at seven different test sites around the country, subjecting them to the harshest conditions Australia's unique climate can muster.
It is important to note that, in addition to our existing product range, the house was designed as a 'concept house', and did incorporate new products that BlueScope Steel is currently developing. We continue to explore the benefits that can be provided by these development
4. What are some of your next steps in taking this project forward? For example, are you thinking about doing an energy model for the house or a life cycle assessment?
Robert: This house was designed to meet the nominated resilience requirements, covering specific levels of fire, rain, inundation, hail and cyclonic winds. Working with PIDCOCK on the design, we also focused on cost, aesthetics, air flow, comfort, daylighting, shade and other aspects of good design - we didn't want to develop an expensive, unliveable, energy intensive sealed box!
Hayley: It is important to ensure that design elements and materials are used appropriately across Australia's varied climate. Rather than attempt to extend this research to an 'one design fits most' case study we are likely to tailor the attributes from this design to meet specific regional climate resilience requirements, like those recently experienced in Queensland, and communicate the sustainable credentials of those tailored solutions through established programs like 'Build it Back Green'.
5. Hayley do you think this type of resilient housing will reduce risks from extreme weather events and improve insurance premiums?
The insurance industry has demonstrated their need to incorporate resilience to extreme weather events into the risk assessment process at sustainability conferences across Australia. This award is another example of their desire to address the impact of nominated extreme weather events listed in the criteria of the award criteria. In my opinion rewarding those willing to invest in more resilient homes with reduced premiums is a positive step toward increasing the resilience of Australia's housing stock, as is reducing the barriers to the upgrade of damaged housing to more resilient standards after an extreme weather event has occurred.
6. Hayley, you attended the BIBG workshop. What did you think about it?
The 100+ attendees of the BIBG workshop personified sustainable building innovation. The broad stakeholder engagement from government, not for profit organisations, energy providers, architects, builders, insurers, material manufacturers and sustainability professionals; demonstrated the need for guidance and leadership in the building sector to maximise the rebuilding of Queensland today to the resilient standard it will require in years to come. Discussions during and outcomes from the workshop emphasised to me that 'resilience' is a key characteristic of sustainable design that cannot be excluded from consideration when constructing, reconstructing or renovating buildings and infrastructure.