Shading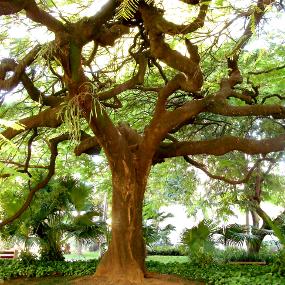 It's summer. The heat is intense and, somehow, it can seem nearly as hot inside as it is out. You have insulation and the blinds are drawn - what else can you do to raise comfort levels? The first thing you should look at is shading. Imagine that for every square metre of glass in your house receiving direct sunlight, you are receiving a single-bar radiator's worth of heat inside.
Clearly, reducing the amount of direct sunlight that comes through your windows is going to make a big difference to your comfort levels. The good news is you don't need to pull down the blinds and live in the dark to keep your house cool. With a little strategically placed shading, you can block up to 90% of all heat coming through your windows and still enjoy the view.
Shade structures can range from awnings to eaves, shutters, shade sails or trees. There is no one-size-fits-all solution. Your taste will be a factor, as will be the orientation of your windows. The side of your house that you can do most with is the north, where the trick is to employ horizontal shade structures such as eaves and awnings. In summer these will act like a sun visor to exclude the high and hot summer sun. In winter, the sun, travelling low to the horizon, will still peek under your shade structures to allow in precious winter warmth.
Adjustable shading gives you maximum control over how much sun you invite into your living space. Contemporary shade sails can introduce elegant lines and spaces to your home and allow you to choose exactly how much shade you get on any given day - particularly useful in spring and autumn. Mechanical awnings also offer choice and convenience.
In recent times the science of shading has taken a leap forward with attractive architectural louvres. These have spaces and angles specifically tailored to allow maximum winter warmth and summer shade. If you're looking for something more classical or naturalistic, pergolas hung with deciduous vines provide a cool haven, not to mention a beautiful garden feature.
After the north side, the east and west sides of your house are a little more challenging to shade effectively. At sunrise (east) and sunset (west) the sun hangs low in the sky. That means in summer it's going to get under your horizontal structures for an uncomfortably long period. The trick to shading morning and afternoon sun is fixed "vertical" structures such as trees or shrubs.