Concrete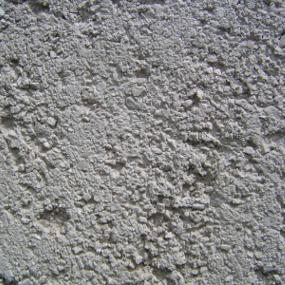 Concrete is an excellent material for creating thermal mass in a passive solar designed home. In temperate and cool climates thermal mass helps regulate a home's temperature and keep it warm in winter and cool in summer.
An exposed concrete slab floor, positioned in front of windows in a north-facing living room, receives direct sun in winter. It absorbs the solar radiation and warms the house into the night. With appropriate shading, the sun won't hit the concrete over summer, so the chill of the concrete will help the home stay cool.
Other benefits of concrete are that it can have a long life time if designed and used properly, can be used as a non-chemical termite barrier, can be easily formed into complex and adaptable shapes and designs, is fully recyclable and fire resistant.
On the downside it is a poor insulator and conventional concrete has a high environmental footprint due to the amount of energy needed to create it.
However there are some concrete products on the market which are reducing the carbon footprint of concrete.
Some concretes contain fly ash and slag (by-products of burning coal and smelting iron ore, respectively) which comfortably replace over one-fifth of the cement content - more with chemical admixtures - without adversely affecting the quality of the product.