Rapidwall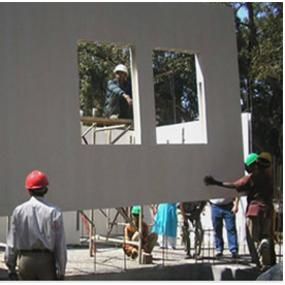 Rapidwall is a load-bearing wall construction system that uses large prefabricated panels to assemble both inner and outer walls in one go.
The panels are made of fibreglass reinforced water resistant gypsum plaster which is moulded to the required size.
Panels are available up to 12 metres long and 3 metres high, so entire walls can be prefabricated and then installed onsite using a crane.
The panels are 124 millimetres thick and have a cellular internal structure to accommodate plumbing and wiring, or the cavities can be filled with insulation or concrete.
Rapidwall is claimed to have considerably lower embodied energy than conventional building materials, although materials such as strawbale and mudbrick will be lower.
Rapidwall has a high thermal insulation and when the hollows are filled with insulation even greater thermal properties are achieved.
Rapidwall has a 1 hour fire rating when unfilled or a 4 hour fire rating when filled with concrete.