Rammed Earth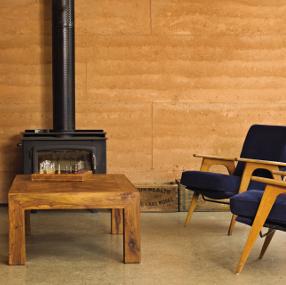 Not to be confused with mud brick, rammed earth is a precisely controlled mixture of gravel, clay, sand, cement, and sometimes lime or waterproofing additives. The contents are carefully proportioned and mixed, and then machine-compacted in removable formwork to yield a stone-like wall that is massive, water resistant, load bearing and long lasting.
One of the attractions of rammed earth is its low embodied energy. Most of the energy used in rammed earth is in quarrying and transportation. The ultimate is if your materials can be quarried on site.
Though you can always tell a rammed earth wall, no two are ever the same. The appearance of rammed earth is a function of its materials and of the ramming process. Most walls are horizontally stratified, a result of ramming the materials layer by layer. Colour and texture can be controlled during the ramming process, and features such as niches, embedded stones and leaves can be added.
Being a niche product, rammed earth sells at a premium over conventional building materials. For a vertical square metre of rammed earth with 30cm thickness, the usual cost is $250 to $300. The more complicated the job, the more it will cost. But the highly customised qualities of rammed earth are what attract people to it.
Rammed earth has a number of practical advantages. Tests by CSIRO have given it a four-hour fire resistance rating, which is very favourable. Rammed earth is also highly durable and moisture resistant. While you need to prevent continued exposure to water at the top and bottom of walls - just as with clay brick - most Australian rammed earth walls do not require additional waterproofing. The non-toxic nature of rammed earth is one of its main attractions.
Rammed earth is particularly renowned for its thermal mass, which is its ability to store heat then release it hours later. When there's a big difference between outside and inside temperatures, and daytime and night time temperatures, thermal mass can give you heat when you want it and store it when you don't. However to get the best out of rammed earth you have to know how to build with it. Poorly installed, it will radiate heat all night during summer and absorb the heat you produce at night in winter.
Unfortunately materials with high thermal mass are not good insulators - they don't stop heat, they just slow its flow. And that is the main drawback of rammed earth. Even though it has low embodied energy and excellent thermal mass, its R value - the measure of its insulating qualities, crucial for a home's energy rating - is low. However the problem is not the material, it's how you use it. With appropriate passive solar design (and in some cases the addition of insulation within the thickness of the wall) rammed earth can achieve comfort conditions in every one of Australia's climate zones.
So don't let a narrow focus on R values put you off. Coupled with appropriate design, rammed earth can be a powerful material for increasing the comfort and liveability of your home. Not to mention its beauty and uniqueness.